MULTIMETER DIGITAL 10A COMPUTER INTERFACE USB AUTO PWR OFF
Part No: MTP 2850A
Manufacturer: MTP Instruments Inc.
Stock No: MJJK-441
SKU No: 202981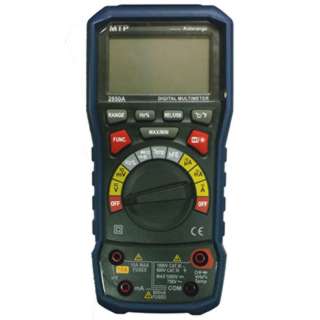 Image is for illustrative purposes only. Please refer to product description.
Curb-Side Store Pickup can be selected at Checkout.
Make sure all products in your cart are at the preferred store.
We will contact you when your order is ready to pickup.
To purchase bulk quantities, Please contact our Sales Department (+1-416-494-8999) or email shop@sayal.com
Store Stock Check

| | | |
| --- | --- | --- |
| | Mississauga | 1 |
| | Scarborough | 1 |
- 3999 counts large LCD display - True RMS - RS-232 pc interface - Temperature, capacitance, frequency and duty cycle measurements Specifications: AC Current : 400 uA, 4000 uA, 40 mA, 400 mA, 10 A, ± 1 . 5 % AC Voltage : 4V, 40V, 400V, 700V, ± 0 . 8 % Capacitance : 50 nF, 500 nF, 5 uF, 50 uF, 100 uF, ± ( 3.0% ) DC Current : 400 uA, 4000 uA, 40 mA, 400 mA, 10 A, ± 1 . 2 % DC Voltage : 400 mV, 4V, 40V, 400V, 1000V, ±(0.5% ) Frequency : 5Hz to 5 Mhz, ± 0 . 2 % Resistance : 400 Ohms, 4 K, 40 K, 400 K, 4 M, 40 M, ±( 1 . 0 % ) Temperature : -20 to 400 °C / 400 to 1000 °C, ± 3 . 0 % Included Accessories: 1 x 9V battery Carrying case PC software DC-R RS-232 serial cable Temperature probe MS-3400 Test leads
---