MAGNIFYING CLIP LED LAMP 3X FLEXIBLE GOOSENECK BLACK
Part No: 18906-005
Manufacturer:
Stock No: TMNC-0171
SKU No: 252359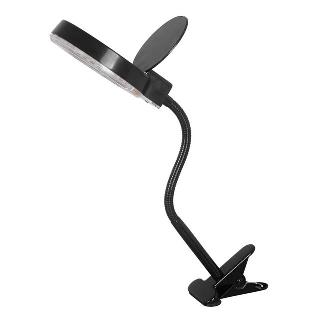 Image is for illustrative purposes only. Please refer to product description.
Stock may not be available at all store locations. Inventory quantites can change without notice.
Illuminate your bedroom, office, college dorm or desk with this versatile magnifier clip lamp. The Tensor Modern LED Magnifier Clip Task Lamp allows for ideal placement next on a desk top, bed headboard, table, work bench or other work space and adds the perfect amount of light and while offering a magnifier lens to help you more clearly. This benefit of the magnification is ideal for different work spaces, reading, studying, drafting, crafting, sewing, scrap booking, fly tying, your favorite hobby or whatever task you have. This magnifier design was strategically constructed of metal and plastic components to offer a lightweight and great perfuming product. The magnifier clip lamp features a bendable goose-neck and durable metal clip with an adjustable shade for easy and optimal positioning in any direction. The natural daylight/full spectrum light source allows you to see more clearly and comfortably using a light source that simulates natural daylight. This light source makes colors appear sharper, clearer and brighter. It is easier on the eyes than incandescent or fluorescent lights helping to reduce eye fatigue allowing you to do what you love longer.
Natural daylight/full spectrum color temperature
Adjustable magnifier
Features a bendable goose-neck and metal clip
Uses a 2-Watt LED bulbs, included
Easy set-up in minutes with step-by-step instructions
UL listed and approved
---
Limited Stock Available To purchase, Please contact our Sales Department
(+1-416-494-8999) or email shop@sayal.com