MULTIMETER DIGITAL AUTORANGE VOLT RES DIODE TEMP AUTO OFF
Part No: DM6250
Manufacturer: SPERRY
Stock No: MJQF-461
SKU No:255928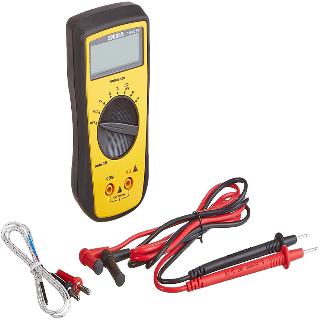 Image is for illustrative purposes only. Please refer to product description.
Sperry Instruments DM6250 Digital Multimeter.
Digital Multimeter, 7 Function AC/DC Voltage, Resistance, Continuity, Diode, Battery, Temp Probe, 19 Range Auto
About This Item
Engineered to exceed the expectations of the professional electrician the Sperry Instruments DM6250 7-Function Digital Multimeter offers a durable and ergonomic design manufactured to the latest industry standards. Featuring improved audible and visual indicators, a large LCD screen, and easy to read industry standard markings this unit uses standard AAA batteries with an auto-off function designed to save battery life. Unit is equipped with auto ranging capabilities that allow the meter to automatically determine the resolution based on the application without requiring manual adjustments. This Multimeter is compact, lightweight, and features impact resistant ABS housing with protective rubber over-mold and comfort grip. AC 500V/DC 600V capable with temperature (probe type) measurement functionality. Unit also measures resistance and continuity (audible), and performs diode and battery testing (1 Range - 1.5V (2V)). CAT III, cETLus and CE rated. Requires 2 AAA batteries for operation.
---
• Max Current (A): 0 (AC), 0 (DC) • Max Voltage (V): 500 (AC), 0.0006 (DC) • Max Resistance (Ω): 20 (AC) • Capacitance Measurement: NONE • Temperature Measurement: YES • Frequency Measurement: NONE • Transistor Test: NONE • Continuity: YES